THE PARENT-INFANT COMMUNITY
four to eighteen months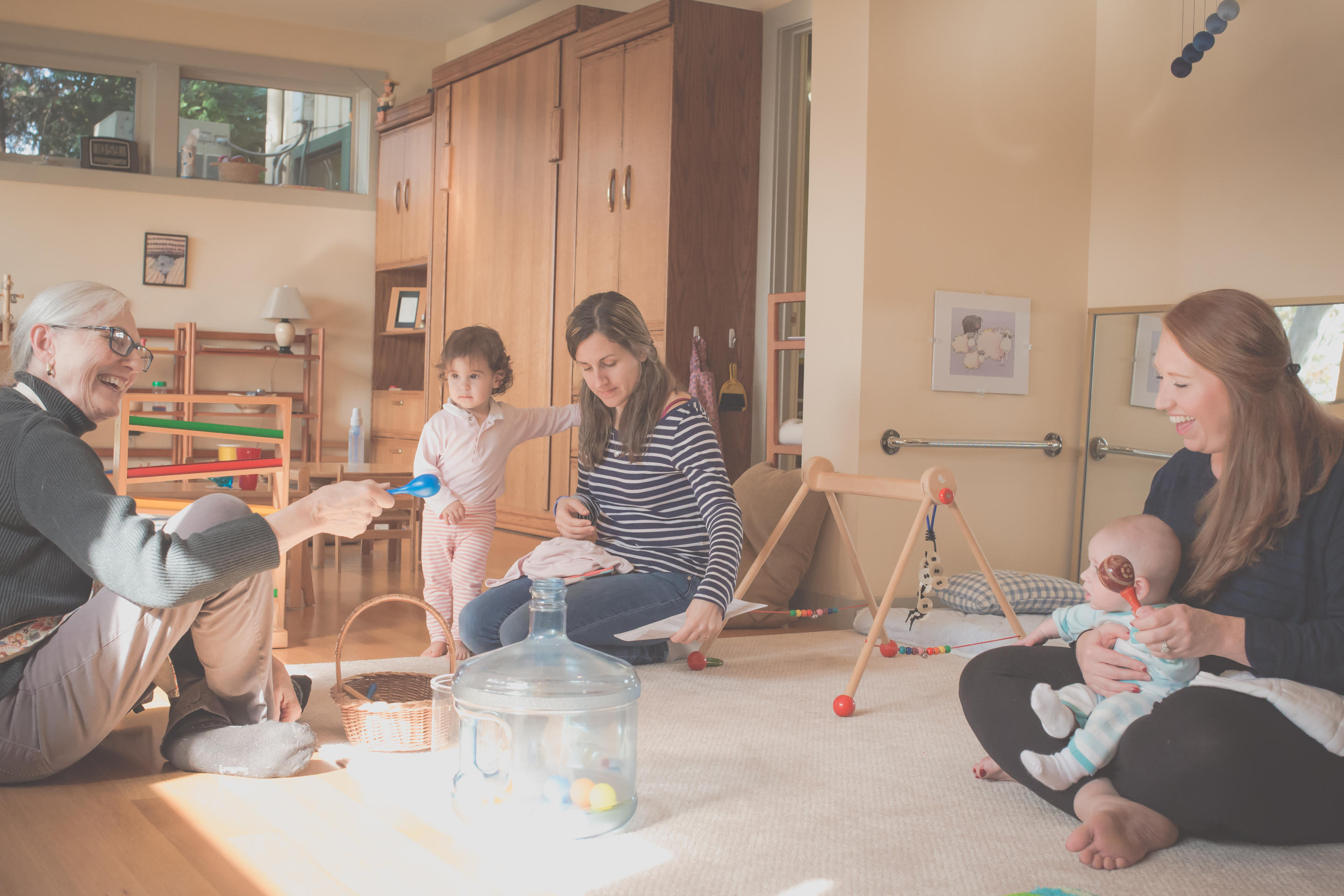 From the very beginning, Montessori encourages a child to explore the world around him. The Parent-Infant Community offers children an environment designed just for them that is an extension of life at home. This program, which parents attend with their children, provides an introduction to Montessori education and initiates the child's transition from the world of the family to a school community.
Fridays · (6 sessions)


THE TODDLER COMMUNITY
eighteen months to three years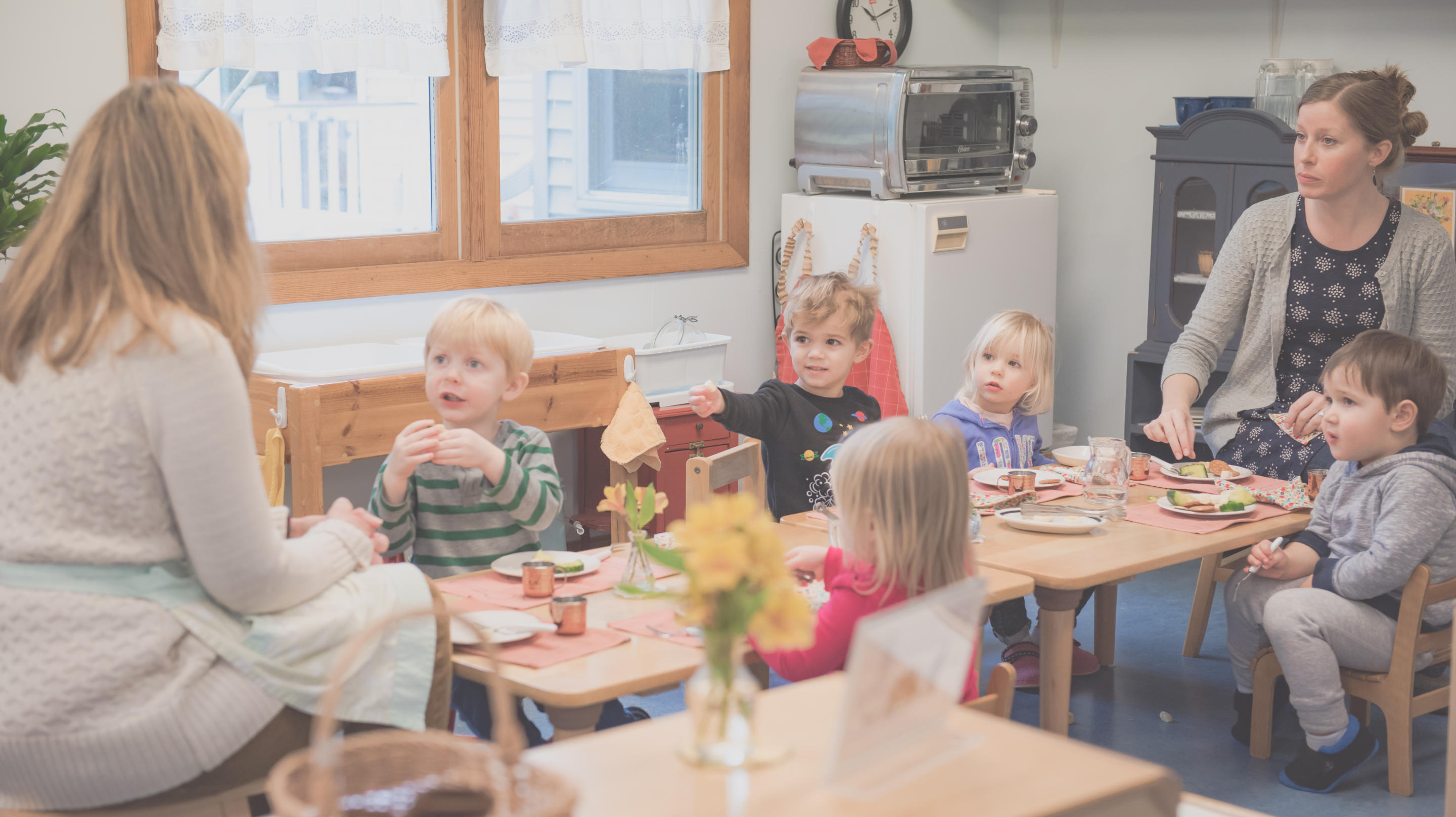 At this age, the child is moving toward greater independence. The Toddler Community offers the child a bridge between home and the outside world in a gentle, nurturing way. Here, the child is free to explore this beautiful and interesting environment with a teacher as her guide. The daily preparation of food is an important part of the child's work as she begins to gain practical skills and develop social awareness.
Monday to Thursday · 8:30 am to 11:30 am
THE PRIMARY CLASS
three to six years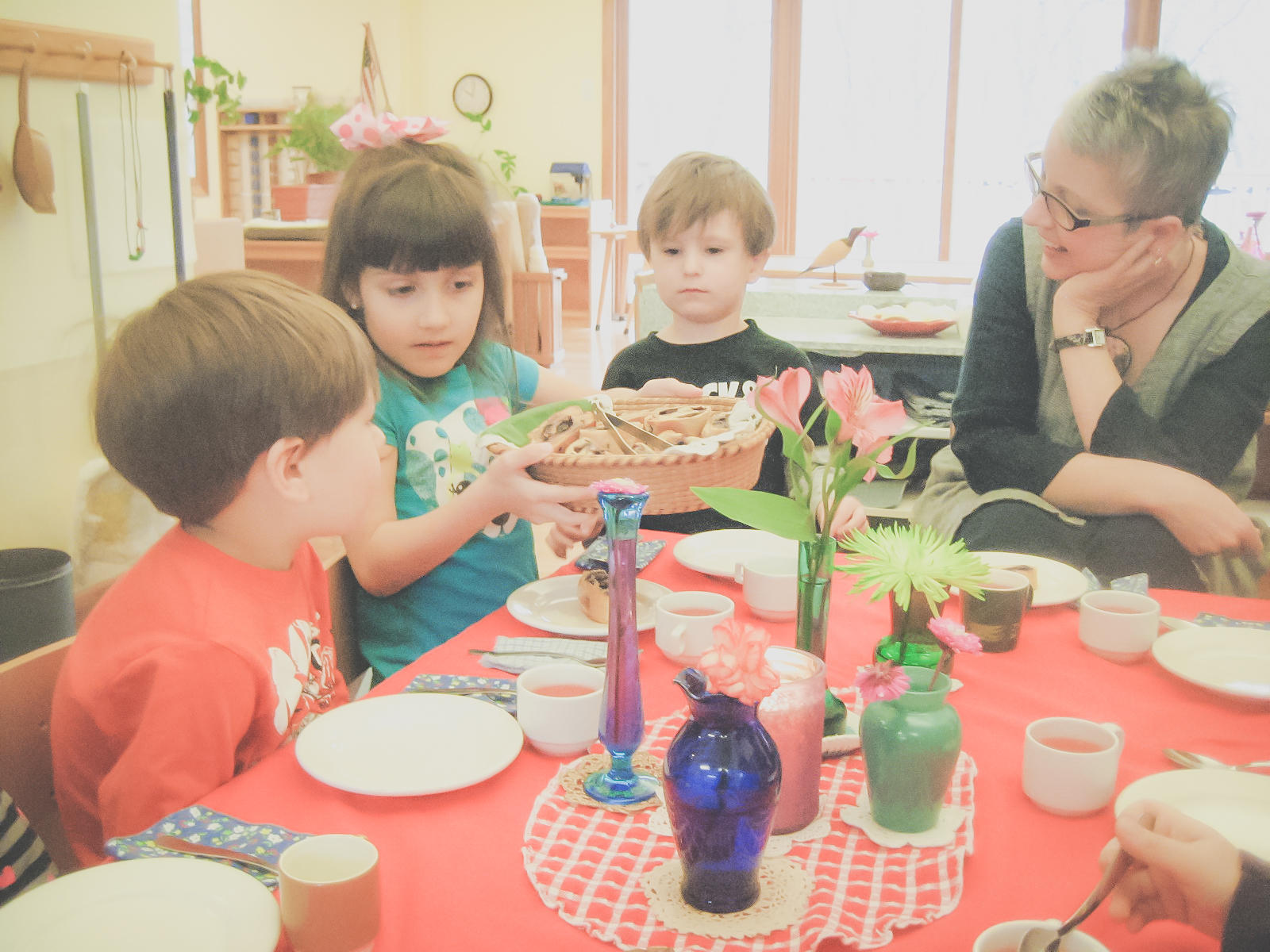 Around the age of 3, the child is ready to move into the more complex and exciting world of the Primary Classroom. Specifically designed materials allow children to continue their exploration in a more structured way.
Practical life exercises, such as wood polishing and watering plants, help the child gain mastery of his body and learn to care for his environment. Sensorial materials help him to discriminate and classify aspects of his environment. Language and mathematics come from hands-on materials that lay a solid foundation for future learning. Social experience is an integral part of life in the classroom – younger children learn from the older ones and the older children learn how to help the young ones.
Once he is 5, a child has developed the physical and mental capacity to stay at school all day. With a smaller group of children in the afternoon, he has time to work with peers on more academic tasks to prepare him for the next level of schooling.
Monday to Friday · 8:30 am to 11:30 am / 8:30 am to 3:00 pm
SUMMER PROGRAMS
Primary
Our Summer Primary Program is for registered Prairie Flower children only. Children enrolling into the Primary Class at the beginning of the next school year are also eligible. This program is a more relaxed continuation of our Montessori curriculum. The children are able to take advantage of our beautiful outdoor environment and can do more outside work in the garden, go hiking, and explore all the flower and fauna in our pond, woodland and meadows.
ADDITIONAL INFORMATION
Programming Details
EXTENDED-DAY WITH A HOT LUNCH: 8:30 to 3:00: Prairie Flower offers an extended-day for children 3 and 4 years old. Kindergarten-aged children also attend five days a week, 8:30 to 3:00.
All extended-day children are required to have a hot-lunch that meets DCFS standards. With documentation from your doctor or religious leader, exemptions are permitted so children can bring their lunch from home. These meals are prepared in our newly certified kitchen in compliance with State of Illinois food handling and health guidelines. Organic, fresh fruits, vegetables, yogurt & whole milk are also provided.
BEFORE AND AFTER SCHOOL CARE: 7:30 – 8:30 and 3:00-5:30: Books, board games, music, art media, singing, circle games as well as various craft and cooking projects are part of the after-school time. Opportunities to run and play games outside, work in the garden, or go on excursions to our wetland and surrounding property are also options when weather and time permit. Registrations for after school care are offered to working parents for whom childcare is needed for the full school year. When spaces are available, reservations for after school care may be made on a monthly basis. (Not available at this time)
TIER-DISCOUNTS FOR TUITION: Tier-discounts for tuition are based on a family's annual income, household size, childcare and educational costs, etc. Due to budget constraints there are limits on the number of families granted discounts in each tier, each year. Applications to become a candidate for a tier-discounted tuition are sent via e-mail or are available in our office. (Not available at this time)
OUR OUT-DOOR ENVIRONMENT: Prairie Flower has an exceptionally beautiful outdoor environment with ample space to run and play among mature pine and hickory trees. Gardens, sandboxes, and classic playground equipment complete our fenced-in area. A wetland with its small pond and stream, a woodland with ravines and wild bramble, and prairie meadows not only enrich our Montessori curriculum, but also offer opportunities for the children to experience nature first hand.
OUR FACULTY AND STAFF: Certified Montessori-trained guides from accredited Montessori training centers direct our classes. Before and after school programs are supervised by guides who have on-going Montessori professional development and are DCFS qualified to supervise the ages of the children with whom they work. A staff member, with CPR/First Aid and Food Handlers certifications, is on site at all times.
ADDITIONAL AFTER-SCHOOL PROGRAMS: Occasionally, we will coordinate with well-respected third party organizations to hold their programs on our campus. This may include lessons for: piano, violin, Spanish, yoga, sewing, photography, soccer, or dance. Parents register and pay for these classes directly to the organizations offering them unless different arrangements are made with the provider.
E-mail: [email protected]
Website: prairieflowermontessorischool.org
Prairie Flower does not discriminate in admissions or employment on the basis of gender, race, religion or creed.